Vatika India Next or Vatika INXT is a project by Vatika Group to bring back life's harmony. If you love pollution Free Enviornment then you should think about buying a house in this area.
One of the largest townships, developed in 700 acres of land in one of the prime locations in Gurgaon's sector-82.83.84 & 85.
Ready to Move
The township is ready to move and already home to over 12,000 people, who are experiencing an unsurpassed lifestyle that Gurgaon has never seen before. Vatika has set a new standard in modern living by combining the three themes of life; to live, work and play, under one roof. Vatika INXT spurs you to take the next big step in life.
INXT is a city in itself
With residential and commercial spaces, over 30 educational institutions, medical facilities, clubs, sports arenas, entertainment facilities and lots of open space to enjoy the leisures of life.
Everything you and your family may want or desire is right round the corner at Vatika India Next.
Prime Residential Township in Gurgaon
Vatika India Next has something for everyone; luxurious villas, spacious floors, independent plots and magnificent high-rise and condos, and offers even more.
The types of residential properties Vatika India Next has to offer are:
High-rise Apartments
Tranquil Heights
Sovereign Next
Emilia Floors
Primrose Floors
IRIS Floors
Premium Floors
Signature Villas
Plots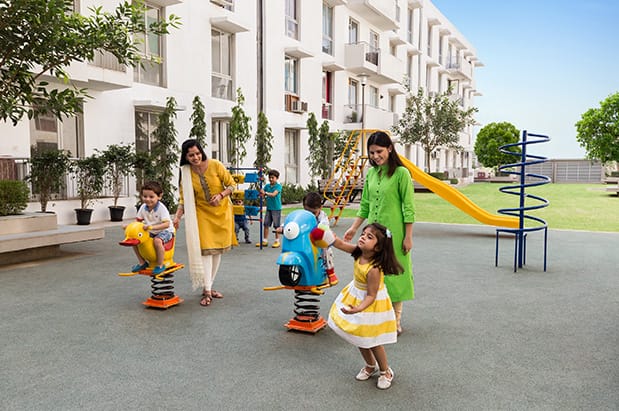 At about 700 acres in area, Vatika India Next is slightly larger than South Delhi's Vasant Kunj.
That's large enough to make it the perfect little hometown for your children.
It offers the wholesomeness and simplicity of the town you grew up in, along with the benefits of new-age urban planning.
HighLights of the Township
Clean environment 
 Vatika has planted (and still planting) hundreds of trees in this area. As a result there are sufficient open green areas covered with trees like gardens, Kids playing areas and open Gyms. Moreover on any road you would find at least 25-30 trees, which along with low traffic, keeps the Pollution level lower compared to other parts of Gurgaon.
The entire township is being developed along eco-friendly lines, using energy-efficient technologies and materials.
Healthy lifestyle The township is extremely pedestrian-friendly, for instance it's layout is such that it invites people to spend time outdoors.
Play areas Usable open spaces, rather than merely ornamental lawns, have the emphasis in Vatika INXT. Plenty of sports facilities and places to run, play, exercise and skateboard in.
Grandparent-friendly Grandparents are a key part of childhood. Because with easy walkways, shaded benches, parks and plenty of places, INXT makes sure it's senior and junior citizens can have a lot of fun together.
Safety for All access points into the township are manned round the clock, and the entire area is a secure zone – with CCTV surveillance, over 370 security personnel and more importantly a police station within the township.
Easy Traffic Vehicular flow is extremely regulated and kept segregated from pedestrian and play areas – making them safe for the young and the elderly.
Education The middle and senior wing of MatriKiran is already operational with a 6.25-acre campus in Vatika INXT. Altogether, there will be 3 high schools, 6 primary schools, 7 nursery schools and 3 day-care centres.
Healthcare Apart from the full-scale hospitals coming up on the Dwarka Expressway, Vatika India Next will also have 1 hospital, 3 clinics and 11 nursing homes within its premises. The first 3 nursing homes will commence operations by March 2017.
Easy commute The Township is completely self-sufficient township. But should you need to step out, it is extremely well-connected too – right at the intersection of NH-48 and Dwarka Expressway, with a Metro hub coming up alongside.
Top notch maintenance Enviro, Vatika's own facility management arm with decades of experience in this field, makes sure that everything is hazard-free and immaculately maintained.
In conclusion, In today's stressed and hurried world. Vatika India Next is designed to be a calm oasis where children can truly be children, and above all, over 12,000 families have already discovered its charms.