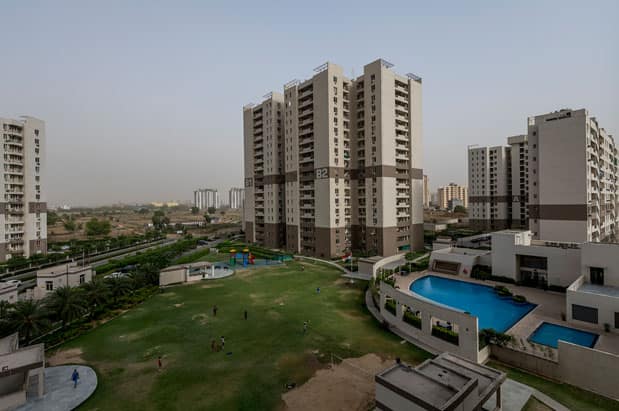 Vatika Gurgaon 21 is a Ready to move gated community spread across 20 acres. It is located in Sector 83 Gurgaon and is part of Vatika India Next Project. With its lush, landscaped greenery and contemporary architecture, Gurgaon 21 blends the dynamism of a cosmopolitan lifestyle with the serenity of a well-planned, premium neighbourhood. The layout of the project is such that each tower commands a view over an expanse of greenery. Gurgaon 21 features beautiful landscaping throughout the project, and walking is a pleasure in this serene and green community.
Project Highlights
2, 3 and 4 BHK Options
With in walking distance from Dwarka Expressway
Gated community spread across 20 acre, in Vatika India Next, Gurgaon
Each tower commands a view over an expanse of greenery
75% of open spaces
Landscaped green areas
Ample parking on surface and basement
24X7 security
AMENITIES
Club
Swimming pool
Gym
Kids play area
Yoga terrace
Indoor games
Sports area with badminton, tennis, half basketball court etc
Community retail
Also Read Vatika City Home
Why should buy or Rent a House in Vatika Vatika Gurgaon 21 Sector 83 New Gurgaon
Best Maintenance
Maintenance of Vatika India Next is done by Enviro (facility management company by Vatika), which is very efficient. You can download their Home services app for any service like Electrician, Plumber, White Wash, Deep Cleaning, Gardening, carpenter and many other services. Their staff is well trained.
Better and Less Congested Roads
All the High-rise societies and commercial hubs and schools are located on 24 and 60 meter wide roads and all other roads are also less congested and very well connected to these wide roads. All the roads are well maintained and timely repaired.
Security The whole area is very safe and well lit so people can go out without any fear. You can have a walk anywhwre in the area even if it is late in the night. There are sufficient security guards in the High-rise apartments. And in every row of Independent floor there is a barricade and security guards available. Also there is a Police Station situated in Sector 83, which adds to the security of the area. 
Less Pollution
 Vatika has planted (and still planting) hundreds of trees in this area. There are sufficient open green areas with trees planted on both sides and in the center of the roads, gardens, Kids playing areas and with in the societies. Also you would at least 25-30 trees in every street. This along with low traffic, keeps the air and noise Pollution at lower level compared to other parts of Gurgaon.
Shopping and Entertainment
There are many options for Shopping and Entertainment in this part of Gurgaon. All major Banks like HDFC, ICICI, Kotak, IDFC, SBI and Brands Like Inox Cinema, Reliance Fresh, HaldiRam's, KFC's, Reliance Trendz, Reliance Digital have already made their presence. Also many malls, Multiplexes and office Complexes are on the verge of completion and all major Ecommerce companies also delivers in this area
Almost all major School in Gurgaon provides transportation to Sector 83. Also many World class Schools have already started their operation within Radius of 5 km.
List of Schools which are operational in New Gurgaon
DPS School Sector 84Matrikiran High School Sector 83
Euro International School Sector 84
St. Xavier High School Sector 81
Yaduvanshi Shiksha Niketan Sector 82
Bharat Ram Global School Sector 86
RPS International School Sector 89
Overall Vatika Gurgaon 21 Sector 83 New Gurgaon is a Option, whether you are a End user, Investor or Tenant. Price starts from 67 L for 2 BHK and goes up to 1.3 L for 4 BHK apartment. Rent is between Rupees 18000 and 25000 for Semifurnished Apartment (including maintenance)